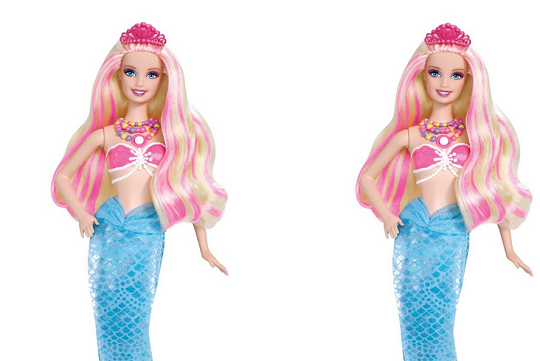 The Barbie and The Pearl Princess Lumina Doll is down from £19.99 to £9.99 on Amazon. It comes with free delivery and a saving of just over 50% off. That pesky 1p takes it to just above that value. Haha.
In the movie, Barbie and The Pearl Princess, Barbue stars as a gorgeous mermaid princess who has a magical power over pearls. Not sure why pearls need to be controlled, perhaps they are vicious in the wild or something…
Anyway, this toy allows you to recreate her magical transformation with a doll that changes her look by just pressing one button. You push the mechanism hidden by Barbie's pearl to change her outfit from mermaid to mermaid princess and to add to the drama her hair changes to pink if you drench it in ice cold water. If you want her to go back to blonde, just add warm water.
Thanks to Decyther at HUKD!