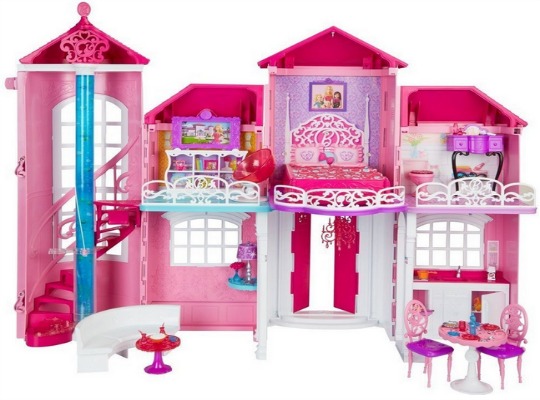 Luckily this is not a Lightning Deal, but it is only available TODAY! Amazon have the Barbie Malibu House for a fantastic price of £49.99 including Free UK Delivery. Although most places are selling it below the RRP of a huge £99.99, Amazon still has the best deal on this.
Although Barbie has been knocked off the number one girls' toy spot by those Frozen girls this year, she still is a massive favourite with children everywhere, and if you have girls the chances are you also have a variety of Barbie Dolls living in your house too.
This is a very beautiful and grand house for Barbie, a two storey dream house with 6 rooms equipped with stylish furniture and accessories. I love the spiral staircase and the chandelier in the entrance hall - both are fabulous Barbie pink of course!
There's also a  special "technology feature" -  if you place your smartphone in a holder in the house you can activate the mini-TV feature. Dolls houses have certainly come a long way since I was a girl!
The set includes the house, bed, closet and shower, vanity table, dining table, two chairs, sofa, coffee table, translucent chair and additional accessories themed for the kitchen, dining room, bedroom and bathroom. Barbie dolls are not included, and this is suitable from 3 years upwards.
Thanks to Jakirrr21 @HUKD.