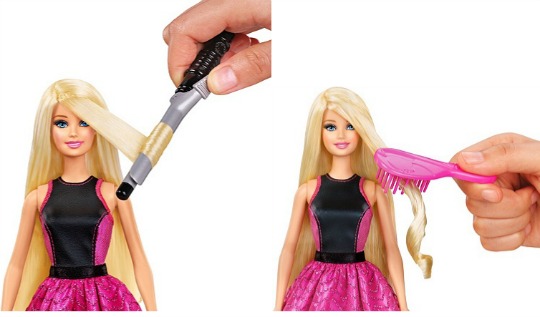 This Barbie has been the most popular one for a LONG time. I absolutely adore the Barbie Endless Curls Doll. My friend's daughter has one and I think I have played with it more than her. This sells for £16.99 at Toys R Us and is £24.99 at Tesco Direct. Get her for just £9.99 at Argos just now. I have checked for availability and she is available in most Argos stores across the UK.
For me, playing with my Barbie's hair was the main appeal, so I wasn't surprised to see Mattel bring out such a fab, hair orientated doll. What did take me aback was that with her special curling wand you can create spiral curls and waves. There's no heat involved at all so you don't have to worry about your child burning themselves. Barbie also comes with four no-heat Curlers for that more relaxed style.
This doll is recommended for children aged five years old and above. Not quite sure why that is to be honest but I am sure there will be a valid reason why.
You can reserve and collect the Barbie Endless Curls Doll for FREE from Argos or pay £3.95 for home delivery.