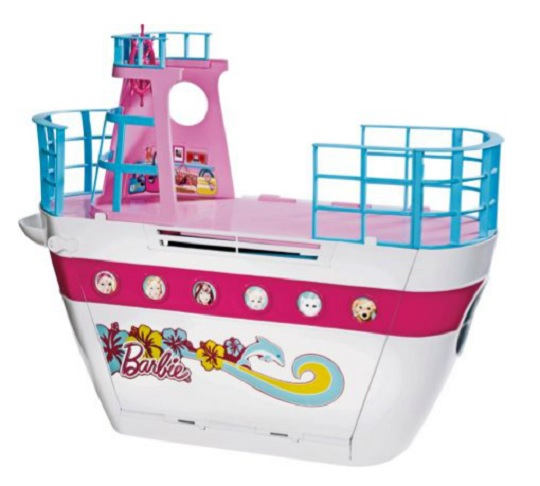 Every little girl's dream, the Barbie Cruise Ship Play Set is gorgeous and perfect for all Barbie fans. The play set was £84.99 but it's now half price at £42.49, awesome!
Set sail on the Barbie Cruise Ship Play Set. On the water the boat features a steering wheel and space for two lounge chairs on the upper deck. When the boat docks, the side panel opens up to reveal another deck, an umbrella pops up, a fun swing that fits all four of the sisters flips out and a grand buffet rotates around. It's the perfect vacation for Barbie!
The back of the boat also pulls out to reveal a fabulous pool for the sisters to play in that features two sliders for racing. For more splish-splashing fun a dolphin fountain puts water into the pool when filled from the top. Flip up the deck to reveal two beds for the sisters to slumber in.
The set includes cruise ship, swing, pool, two water slides, buffet accessories, two fold-down beds, two pillows and two soft-good blankets.