Barbie 10 in 1 Jigsaw Puzzle £3.75 @ Tesco Direct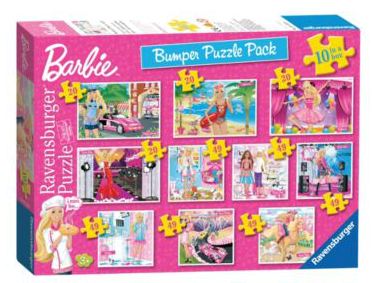 Tesco Direct have a 10 in 1 Barbie Jigsaw Puzzle on offer at £3.75 instead of £7.50. I'd rather stick needles in my eyes, but for an old bird, she still has an awesome following, probably bigger these days than when I was a child.
Puzzles are supposed to build logic, so if Barbies are what your little one is in to, use what you've got and help develop those skills.
There are ten puzzles in this box, and they're either 20 or 49 pieces so they're nicely stimulating for anyone over about three or four, I'd imagine, which is also the age range they're geared at.
There's no information, sadly, for example as to whether the backs are colour coded for ease or not. Perhaps order a few plastic baggies at the same time, so you can keep them separate.
Happy puzzling, little people.
Thanks to poppyj1 at HUKD