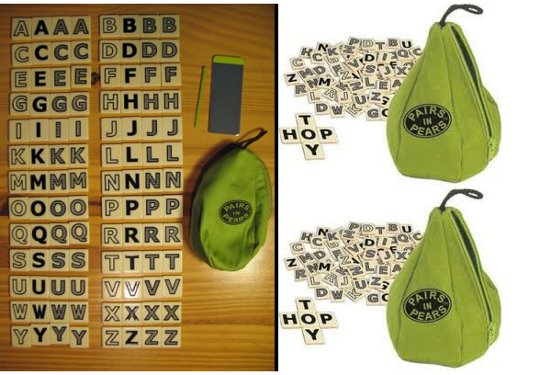 Tesco Direct have the Bananagrams Pairs in Pears game available at £7.36. I don't know what they cost at Tesco normally, but the Amazon price seems to fluctuate between the same price and over £20.
Pairs in Pears is a word game consisting of plastic letter tiles inside a cloth bag shaped like a pear. It is from the Bananagrams company.
According to Boardgamegeek, "The Pairs in Pears game involves making pairs of intersecting words that consist of tiles of all the same pattern. One word is up/down and the other is left/right, and they share a vowel or consonant. Whoever makes a certain number of word pairs first, wins."
The large, ivory-like tiles show capital letters in four designs: solid, outline, lines and dots. Each suite has the full alphabet, meaning there are a total of 104 tiles.
The instructions emphasize the educational value of the tile set: a fun way for children to develop memory and cognitive skills while learning alphabetical order, word construction, vowels, vocabulary, rhyming, and more.
Thanks to wishihadadonkey at HUKD