Most children love to play games. My son is not most children. He's only just got into playing something that has rules - he's six, nearly seven. Snakes and Ladders is a favourite, as is Ludo. But now that he's found out how much fun games are there's no stopping him.
These games from Bananagrams are about the best thing I've ever come across. Banangrams is in fact the first game they made, but they've since added to the brand. All with a fruit theme. And all designed to be good looking, have a sense of quality, and be portable.
We got three for review, Bananagrams, Appletters and Fruitominos. Here's how my family (and some friends) got on with them.
Bananagrams
Bananagrams is insane. Seriously. This is one nuts game! This was Toy Fair's game of the year in 2009. Bananagrams (£14.99) is an anagram game. It is aimed at children aged 7 and upwards. You don't take turns. Players just go for it - fast and furious. You put the tiles face down, and select between 11 to 21 depending on how many people are playing. Then each of you just goes for it, arranging your own crosswords. If you've a tile you can't place you can 'dump' it but you have to take three tiles in return. If you've placed your hand of tiles you shout peel, and everyone including yourself has to take a tile from the pile. The first person to finish placing all their tiles, with none left in the bunch yells BANANAS and wins!
See, I told you it was an insane game. We played it over a few glasses of wine as well once the kids went to bed. It is a fun game for the grown ups too.
At just a penny under fifteen quid it isn't a cheap game. That said, it is good quality. The tiles come in a banana shaped pouch made of a study seeming material. The zip seems quite robust as well. The tiles themselves are made of plastic, I think. But a sort of plastic that reminded me of Bakerlite. The site describes them as 'ivory-like', and I'd agree with that description.
The good: fun for everyone, good quality, attractive package
The bad: a bit pricey
The verdict: 9/10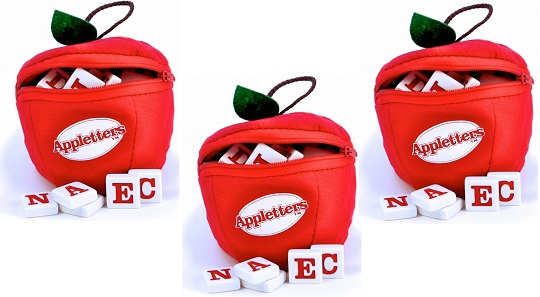 Appletters
Maybe I'd have enjoyed Appletters (£15.99) more if I had played it before we got Bananagrams out. By comparison, it seemed a little dull. This game did start out as one designed for little child so perhaps that's part of it. It comes, as you can tell by the name and the picture, in an Apple shaped pouch. The letter tiles are made of the same sort of stuff as those in the Bananagrams (see above).
It has three levels of play to amuse children, and also challenge adults. For the younger folks there's 'build a snake'. My son and his friend had a great time with this. Although, while my friend and I were out making a cup of tea, they had more fun throwing the tiles in the air and listening to them ripple down onto the hardwood floor. There are 110 tiles. I can vouch for how robust they are. The letters are nice and big, but they are all in uppercase. When my son was in Reception the reading teacher told us to concentrate on lower case rather than uppercase.
Applescore is a game for those who like to have fun with palindromes and semi-palindromes. I don't, so we didn't test that. Or at least we tried but my heart wasn't in it. I accept though that if you do like those sorts of word games you're going to LOVE this. There's also Apple Turnover, which I found a little bit more fun - it is also for adults.
The good: attractive package, good game for little ones
The bad: the adult games weren't my cup of tea, pricey
The verdict: 6/10
Fruitominoes
Unlike the other two games, Fruitominoes (£14.99) is in a square, non-fruit shaped pouch. Which is understandable as it is lots of fruit rather than just one theme! The material pouch is quite sturdy - there's an insert inside to keep it square. It looks rather like a tin of sweets more than anything else.
Well, you know how to play dominoes. This is the same thing but you join the fruit not the dots. And it is a HUGE amount of fun. I have to admit to being biased. I love playing dominoes. I'd not really got my son into it before but these beautifully made tiles with the colourful fruit captured his attention. I even just loved handling them and the way the click together!
The good: beautiful tiles, fun game, handy pouch
The bad: still a little pricey, not so sure the zip is going to stand up to a lot of use
The verdict: 9/10
And finally ...
The only thing keeping me from giving at least the Bananangrams game a Worth Every Penny award is the price. These aren't inexpensive items but I do think you are paying what they're worth. The site also sells two other games that are worth looking at - Pairs In Pears and Zip It. Take a look at the website. The video clip on how to play Bananagrams game is well worth watching.