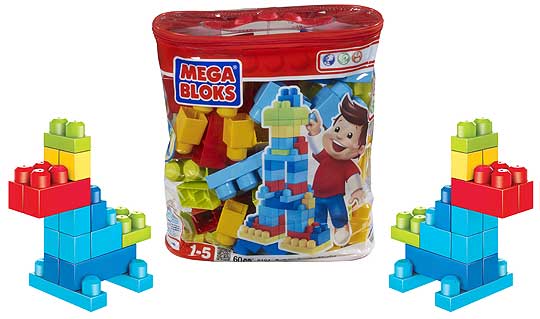 This bag of Mega Bloks classic building blocks is an Amazon Deal of the Week - this means the price will remain fixed at £11.99, rather than fluctuate up and down at Amazon's will, until 11.59pm this coming Sunday (4 November).
I have a bit of a soft spot for Mega Bloks, especially these classic ones - my eldest son had a bag when he was little (even the packaging looks the same some 18 years on!) and my youngest son still enjoys building things with his classic Mega Bloks, even though he's six and has moved onto LEGO.  In fact, I still love building things with Mega Bloks - actually, any type of building block will do.  I think I must be a frustrated architect or general builder!
From experience, can promise that this bag of Mega Bloks classic building blocks will be played with over and over and over again, for years and years and years to come - if you could work out how the cost per play, I'm sure they'd work out to be one of the best value toys you can buy.
The bag contains 60 Mega Blok pieces and are suitable for little ones aged one year and older.
Happy Mega Blok building!