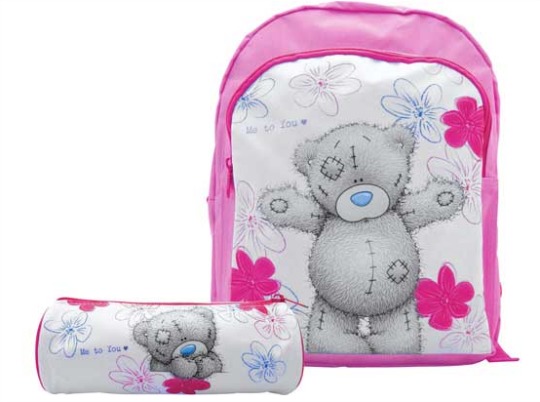 Originally £19.99, then it went down to £6.99, before settling on today's price of £4.99.
Yeah I know, £19.99, who are they kidding? But £6.99 seemed reasonable and £4.99 seems like a good price for the popular "Me to You" range considering you get the pencil case thrown in.
If you're off on holiday soon, backpacks are always handy for kids, whether it's to transport items they need like food and drink or "essentials" like their favourite toys. Or the more organised among you may grab this one ready for after the summer holidays and heading back to school. No doubt by the time this draws nearer, these will have shot back up in price or be out of stock.
Measuring H34, W25, D9.5cm, Argos state this has an 8 litre capacity, I've never really understood that to be quite honest and tend to go with the measurements but there you go.
The Me to You Courier Bag and Purse* is also reduced to £4.99 today if that's the style you prefer and with this you get the purse instead of the pencil case.
Decent reviews on the backpack too, lots of stars and one reviewer remarked :
This product was good value for money, well made and I would recommend this product for use by young children.
As always with Argos you can reserve it to a store near you free of charge or have it delivered to your door for £3.95.