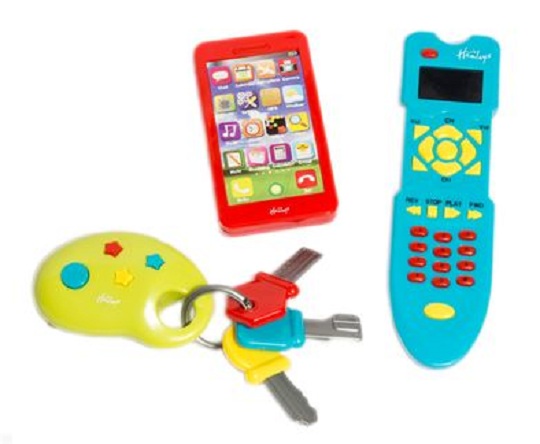 Get this three piece gadget set including plastic car keys, a mobile phone and iPad for just a Tenner from Hamley's. This set (suitable for babies 18 months and older) has been marked down from £15 so you save a very handy £5. Standard delivery takes two to five working days
Role play is an important part of your child's development and boys and girls love being just like Mummy and Daddy. That's why they'll love their very own gadget set from Hamley's!
This colourful and eye-catching three piece gadget set includes all the things that the little darlings regularly remove from Mum and Dad's pockets and chew or worse - hide in their toy box (sound familiar?). With realistic sound effects and light features, this gadget set will seem much more appealing than the real things. It will also stop you having to explain the slim damage to your mobile company and you having to sanitise your keys for fear of your child putting dirty keys in his/her mouth. This set requires six AAA batteries which are not included.