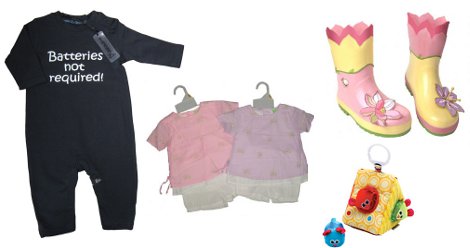 Baby Not Included is a family run, Devon based baby boutique that stocks gorgeous baby clothes, toys and accessories. There's also currently free delivery on every purchase
Enjoy 15% Off at Baby Not Included
Discount: 15%
Valid till: 31 July 2011
Valid on: E-ver-y-thing. Including sale items!
Discount code: Fantastic100
What's so special about Baby Not Included? Well, for a start, I love that they have those 'little bit different' baby items, such as the "Batteries Not Required" romper suit (now £10.19) or the Double Layer 3 Piece Set for £8.24 (now £7).
They also sell some of the lesser seen Lamaze toys – like this Cheese Sorter I don't believe I've ever seen before (now £10.20).
There's a section for pretty things for mums, with necklaces starting at £12.50 (now £10.63).
And my absolute top of the list favourite from Baby Not Included is actually in the sale section – I do love it when discounts apply to sale sections – are these First Wellington Boots which were £12.95, are now £9.03 and with the PlayPennies Exclusive discount, are a mere £7.78.
And remember, there's free postage at the moment, meaning you save another £1.95.
Baby Not Included have beautiful goodies. While some items are a little out my price range, I think they're definitely worth a visit!