Baby In My Pocket Mansion Playset £11.99 @ Matalan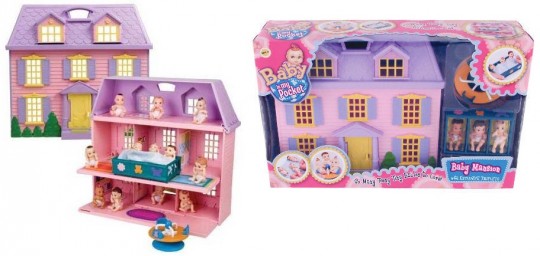 It is always hard for me to remember to pick up a girl's  Christmas gifts or to put in the present drawer. I only have a couple of little girls in my life that I need to remember to buy for. Something like the Pocket series of toys, or Sylvanian families, always goes down well. This Baby in My Pocket Mansion Playset ticks all the right boxes, PLUS, it is available on the Matalan website for £12.49, with delivery at £2. Hold on to your hats though, there's a discount code you can throw in. Use FABFASHION20 when you get to checkout, and it will knock £2.50 off the price. Making this £11.99 including delivery.
The code can be used on other items too, and it will take 20% off your order. A fairly substantial amount, so handy to have! I've looked around, and this same playset is £16.50 on Amazon, with the next cheapest £14.99 at TJ Hughes (however that's before delivery charges are added).
There isn't very much in the way of product information on the Matalan website. Over on Amazon, the playset is described as "the Baby In My Pocket Mansion is the perfect place for your Babies to grow up. Entertain your triplets with a ride on the merry-go-round and then put them to sleep in their crib when it's nap time."
The house playset  includes 3 exclusive Babies with nappies and a sticker sheet. Other Babies sold separately. It is recommended for ages 3 upwards.
Thanks to OZ78 at HUKD!