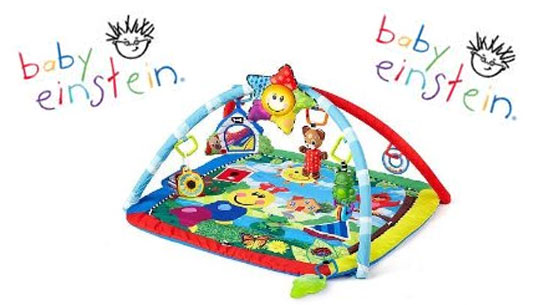 I'm a big fan of Baby Einstein products; I'm also a big fan of baby gyms so this Baby Einstein Caterpillar and Friends baby gym is something I'd consider buying.
It's an Amazon Deal of the Week so it's £44.99, instead of £54.99, price tag is guaranteed all week; hurrah, no wondering whether you should order NOW, in case the price goes up.
I will happily pay, and have, a reasonable amount of money for a decent baby gym.
All three of my children have spent their early months laying on, and playing with, one and whilst a baby gym wouldn't make it onto my Top 10 list of Baby Essentials, it would certainly be on the 'Definitely Consider' list.
When your child is really little, a baby gym gives them a place, that's somewhere other than bed, to lie flat, and an alternative view of their little world; all of my kids would fall asleep under the baby gym when they were really small.
When they're a bit bigger, the hanging toys will give them an incentive to reach out and develop their motor skills by batting and trying to grab them.
When they're even bigger - and that time sneaks up you VERY fast - they can roll over and indulge in a bit of tummy time.
This Baby Einstein Caterpillar and Friends baby gym has a star-shaped electronic toy-attaches to the gym, carriers and most cots; it lights up, features eight classical melodies and is motion activated so when your baby moves it plays.
There are also six toys that chime, rattle and reflect for your child to play with and explore.
Happy Baby Gyming!