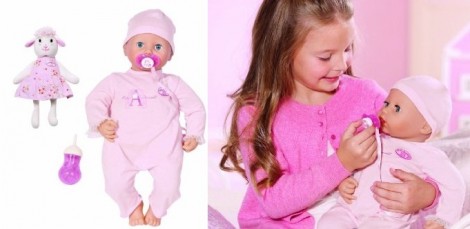 Tesco has dropped the Baby Annabell Original Doll in price from ££44.97 to £31.47. You can then get a further 20% off the price using the promotional code TD-TRE7 when you go through checkout. This brings the price of this doll down to half price at £22.47. Delivery is free if you can arrange to collect at a store.
According to the website, this doll is deal for teaching your child responsibility at an early age. Baby Annabell is just like a real baby with realistic sounds and features. Presumably though without the realistic poo and tendency to keep you up all night! Your child will love taking care of this doll just as mummy and daddy took care of them.
This doll babbles, gurgles, really sucks on her dummy and drinks real water from her bottle. If your little one does not take care of Baby Annabell she will cry real tears.
She burps to let you know she's full yawns when tired so rock Baby Annabell® to sleep and she will close her eyes and sleep peacefully, squeeze her cuddly sheep to hear a lullaby she will giggle.
This original doll comes with cuddly sheep, dummy and pink romper.
Thanks to mum22 at HUKD!