Baby Annabell Doll £29.99 @ Amazon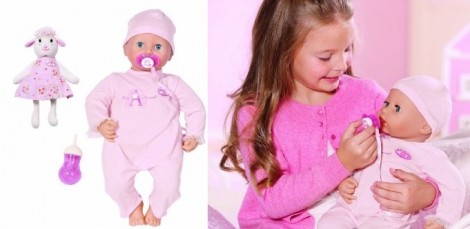 To be correct, this is apparently the Zapf Creation Baby Annabell Doll Version 5. It was £44.99, but Amazon has it on special offer for £29.99. A saving of 33%.
Now I am woefully ignorant about dolls. It is like a different, parallel universe for me, having just my son. It's been many years now since my step daughter played with dolls, and back then she had a big thing for the Trolls - remember them? The cutest one she had was a baby troll that actually crawled.
This is a bit different. For one thing, it is a little bit cuter. And for another, Annabell is a human baby rather than a mythical creature. But the 'real baby' aspect is still there, and this seems to have an enduring appeal for little girls.
This one makes realistic sounds according to the website. And there's more. She babbles, gurgles and really sucks on her dummy or bottle with mouth movement and makes sucking sounds. She drinks real water from her bottle. If you take the bottle away or she is woken she cries real tears. After drinking she will burp, yawn and go to sleep. If you rock her she closes her eyes and will go to sleep. If you talk to her she will respond with happy sounds. Squeeze her cuddly sheep to hear a lullaby and Baby Annabell will respond with a giggle or laugh.
You get a dummy and a pink romper suit with the doll. It requires 4 AA batteries that aren't included.
Thanks to Danthemanc at HUKD!