Baby Alive Changing Time Baby £14.99 @ Amazon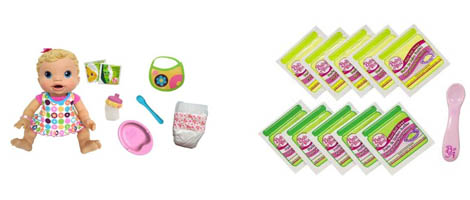 Baby Alive Changing Time Baby normally retails for £29 so this awesome price of £14.99 makes it a must-by for parents on the prowl for Christmas presents. She is faintly creepy in my books, but little girls really do love these toys so it's a great deal.
Changing Time Baby makes real baby noises while you play with her and she even kicks her legs. She comes with a range of feeding and changing accessories that children can use to dress her, feed her, and enjoy playing with her.
You mix the baby food into the bowl, feed the baby with the spoon and then she will pee or poop and you will have to change her nappy. No, I also don't see the "fun" in this, but hey…
She comes with two diapers, a bib, two food packets and dish and a spoon. Now, from what I can see, you have to buy extra nappies and food packs if you want to keep changing and feeding this baby. Hmmm, clever. They can keep making money off your child's incessant demands for more.
Thanks to millarcat at HUKD