Baby Alive, Baby All Gone Doll £11.99 @ Play.com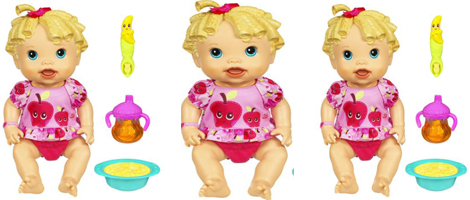 I have to admit that I find many of these lifelike dolls for kids quite creepy. Their wide open mouths and funny sounds make my skin crawl. Still, if you have kids that like this sort of thing, then this discount should make you quite happy. Down from £17.99 to £11.99, including free delivery, this dolly is a bargain from Play.com.
SO, the description says that it is snack time for your Baby All Gone doll and she's hungry for her favourite food – bananas! You put the bananas (not real ones, mind) into the spoon accessory and feed them to the little baby.
She'll eat them all up and make them disappear, just like a good baby should! She says things while she is eating like, "Bananas are yummy" or "Where did it go?". When she is full and doesn't want anymore then she will say "Thank you."
The doll comes with her little outfit, magic bananas, a spoon, a bowl, and a sippy cup. It's quite cute and would make a good Christmas present for a little girl.
Thanks to pinkkitty2007 at HUKD!