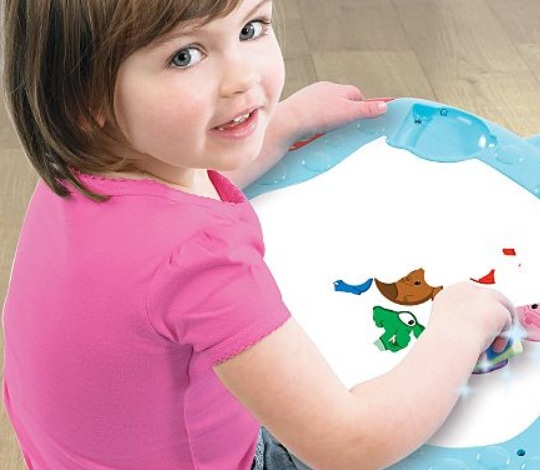 Reduced by half price, the My First Art Desk is down from £20 to £10 at Debenhams. I'd really recommend something like this. It is so handy for kids and really encourages them to get creative and draw. Especially if, like me, you've got a reticient artist.
Especially designed for little hands and big imaginations. Adjust the feet for table-top play or hold flat in the lap.  Use the elephant-shaped water wand on the magic water reveal surface.  Flip the desk over to scribble with a Beginnings Triangular crayon and simply wipe clean with a cloth.  Store your crayons in the convenient built-in compartment.  The bright frog-shaped clip holds paper in place for the creation of masterpieces for your toddler s gallery.
Most of the product reviews are good. This is typical. "Bought this for my little girl's birthday and it is an excellent product. It's just the right size and has different functions to keep the kids entertained. My daughter loves it and has had hours of fun. I would reccommend definitely!"
Not all the customer reviews are positive though so it is worth reading through to see what they all say and make sure this is the right toy for your little one.