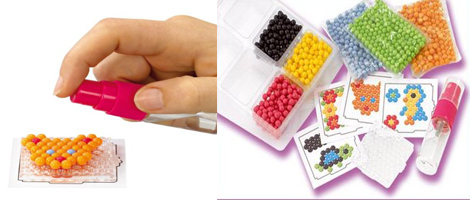 Fancy making some snazzy jewellery with your kids over half-term? Or perhaps you're looking for a cheap pressie or three to fill those stockings? Well this is a nicely discounted pressie that will keep little hands entertained on cold days.
The kit contains everything you need to get started making Aquabeds and comes in a cute little carry pack for easy transportation and storage. The included templates and trays are there to help you create your beaded beauties, and the templates are re-usable so you can make all sorts of variations.
As you put your beads together you squirt them with water to get them to stick together. It sounds a bit dubious to me and I can't help but wonder if these chaps will break apart at a moments notice, but then again, you can always carry a squirty bottle around with you!
The set contains over 4000 beads, one mini layout tray, four mini template sheets, one mini water spray, a storage tray and instructions. It is ideal for kids over the age of four.
Thanks to clgay at HUKD!