If you've come across The Annoying Orange cartoon, the spin-off range of toys based on the main characters won't need much introduction. If the whole thing is completely new to you, on the other hand, suffice to say the name Annoying Orange is an appropriate one.
The whole concept is based around a variety of fruit-based characters who sit around on the kitchen counter basically just irritating each other all day long by making stupid comments and annoying remarks.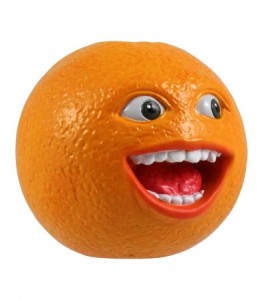 It's one of those absurd concepts that's so bad it's actually good – or so goes the theory anyway. I found it hard to move past the "so bad" part.
Still, its popularity particularly on the web means the Annoying Orange merchandise will obviously appeal to some people, although for me, I can't wait to get it out the house if I'm honest.
We were sent four items to review:
First up is the Talking Kitchen Crew Collectible*, which we had in Laughing Orange guise. It's a hard plastic toy, though in terms of size it's closer to a plum than an orange. The Annoying part comes with a press of the little green button on the other side, which sees our orange friend dishing up little pearls like "wasssssssuuup" or "you're an apple" in the same annoying voice as the cartoon Orange.
Then there's the Kitchen Crew Clip-on*, which is a bit smaller and has a chain and clip for attaching it to, well, that's up to you. It comes in nine options – ours was the Nyah Nyah Orange. You get the same button on the side giving you instant access to more dubious words of wisdom from your fruity friend.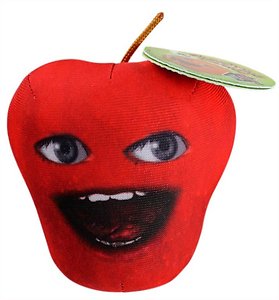 The Fresh Squeezed Clip-On* is a fabric (squeezable) soft toy with a plastic clip and printed face on the front. This time we got to meet the Pear – one of seven options – and mercifully he's less annoying than the orange.
Our final item from the Annoying Orange world was the Fresh Squeezed Plush* toy Midget Apple. It's another squeezable toy, but bigger than the others. Ironically, despite the "Midget" name it's actually the one toy that's about the same size as the real thing. Sadly, the voice is right up there with the orange in terms of "annoying" value.
The Kitchen Crew Collectibles are targeted at ages four and up, but in reality they're the kind of toys as likely to appeal to adults as kids – if they appeal at all, that is.
They're well made, at least, but if these toys really are aimed at kids it's disappointing that the packaging and the products themselves make little or no effort to educate kids about the various merits of the types of fruit represented.
I can't lie. I'd rather poke my eyes out than receive these as gifts, but it's just not my thing. Just like raw, vegan, sugar free cheesecake may not be yours. It takes all types, right? Let me put it this way: If you liked that fundamentally irritating "crazy frog" ring tone that took the world by storm a few years ago (sorry, I couldn't think of a nicer adjective) you'll love Annoying Orange.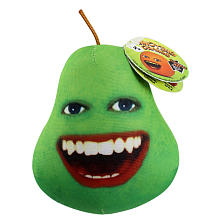 The Good
• They're aimed at children and adults alike
• They are well made
• They are priced well from around £3 to £20 giving you loads of room for personal choice and budget
• There's a good variety to choose from, ideal if you want to start a collection
The Bad
They're appropriately named annoying
The Verdict
Look, it's not my thing. Someone else may adore them. I don't. My husband gave me a sideways glance and left the conversation. My daughter walks around pressing that green button over and over and over and over and over. And the batteries just keep on going on. I'm not sure whether that should go in the good column, or the bad.