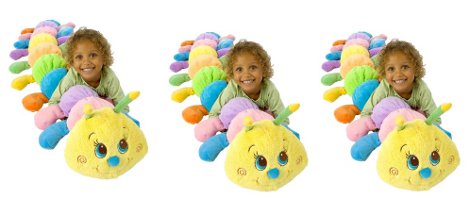 We're all about 'big' things here at PlayPennies today. Just look back on today's posts and you'll see a Giant Space Hopper, Toy Story Jessie Giant Doll, and the 48" Animal Alley Brown Bear, and I'm going to tell you about the fab Animal Alley 55" Caterpillar that's on sale at Toys R Us for £14.99 – half it's original price!
I had a good giggle at some of the comments on HUKD about using this as a draft excluder, which, technically, I guess you could!
Much better use, however, would be as a cuddle toy. I mean, who doesn't love cuddling with a 55" soft toy?
Another great use for these is to help prop a baby up – a friend of mine had a similar one, and whenever we went to visit her she'd wrap it around my little girl and pop them both up on the sofa. It was great fun. Her daughter was a little older, and would lie on/around/under/next to it when she was watching TV.
Anyway, so you can get these from Toys R Us, delivery is £4.95 and although you wont have it in time for Christmas, it'll still make a great winter snuggle buddy.
Thanks to monkeydribble at HUKD