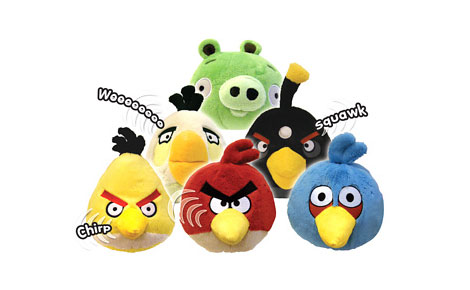 Firebox are currently selling various versions of Angry Birds PlushToys - one of my favourites are the 4" mini Angry Birds with sound effects; damn, I love those birds.
If you don't know about Angry Birds then you've either been living in a cave on a remote island somewhere, or you don't have an iPhone or any of the others that you can play Angry Birds on.
Here's a quick Angry Birds 101 for you, it won't take long:
The Evil Pigs stole eggs from the birds, making them ANGRY and they're now out for revenge by killing the Evil Pigs and reclaiming their eggs.
That's about it *grin*
Spinning off from the game we now, of course, have Angry Birds Plush Toys to play with; my youngest is only four and he plays a MEAN game of Angry Birds, he's very excited at the prospect of being able to make some cardboard pigs and bowling them over with his very own Angry Birds toy.
Angry Birds in the REAL!
The 4-inch Angry Birds Plush Toys are available in various Angry Bird guises, you can even have an evil Pig if you want one, and come with their own sound effects.  The rrp for these little dudes is £12 but you can pre-order them from Firebox for £4.99 including delivery - they expect to start shipping them from tomorrow (2 March).
Thanks to scrumpypaul at HUKD