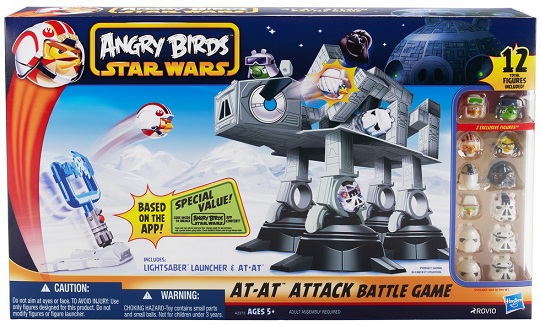 These Angry Birds games are recent arrivals in the UK. Based on the computer game, this is a chance to practice hand-eye co-ordination with real objects instead of staring at a computer screen. The Angry Birds Star Wars AT-AT Attack Battle Game is £35 still in most places. Very.co.uk are the first retailer I've seen to reduce the game - I'm keeping an eye out as son has asked for one for his birthday. Their price is £28, and if you can use Collect + then that includes delivery too.
Collect + is a system whereby you can get your items delivered to a nearby shop, provided there is one near to you in the scheme. Enter your postcode to find out. Our closest newsagents takes Collect + parcels, which is dead handy I have to say.
Star Wars Angry Birds set contains an Angry Birds AT-AT battle game set in the Star Wars universe – launch the birds to topple the empire, destroy the AT-AT and pound those pigs!
Angry Bird Koosh bird-balls are made from a special material that allows them to be soft, spongy and safe.
In this set you will receive 12 Angry Birds figures, including 2 exclusive to the At-At battle set. There are 7 Empire pigs, including Darth Vader and 5 rebel Angry Birds including Luke Skywalker and Han Solo.
You also receive a Lightsaber launcher to fire your bird-balls and 21 blocks for you to create your Star Wars AT-AT Angry Birds Level.
Take turns firing your Angry Birds Star Wars bird-balls at the AT-AT, knock down the Storm Troopers and collapse the AT-AT to win!
Players can also unlock a special Angry Birds Star Wars content for the smartphone game with a unique code.
Thanks to YFU at HUKD!