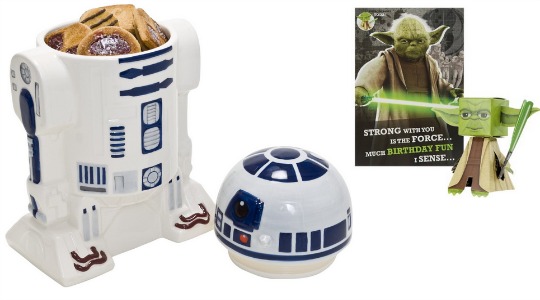 May the 4th is the day for Star Wars fans to celebrate everything to do with Star Wars. I like that and if only there was a national day for Adventure Time I would be over the moon. For today only, as part of Amazon's Deal of the Day you can get up to 30% off selected Star Wars items.
There's lots to choose from in this Star Wars event. My favourite just has to be the Star Wars R2D2 Ceramic Cookie Jar*. It's just £15.99 and is a must to turn a regular kitchen into a Sci-fi haven.
If you know a Star Wars fan with a birthday soon, then you just have to buy them this Star Wars Build Your Own Yoda Birthday Card*. It's only £1.65 and is such a cool novelty card. I am not even a Star Wars fan and I want one.
Remember, Amazon has changed the minimum spend to £20 for FREE delivery (only £10 for books) so bear that in mind when ordering. You might want to top your order up if it costs £17 or more.