The Amazing Spiderman 2 PS4 or XBox One - £14.86 with Free Delivery @ Shopto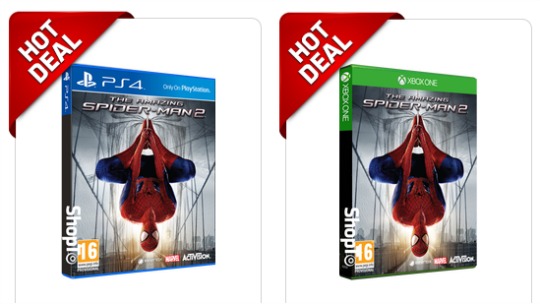 If you are lucky enough to have either of these next gen consoles you will be aware of how expensive the games for them have been, so to be able to get one for less than £15 delivered is a bit if a bargain!
This game is rated 16, so it's not for young Spidey fans, even if you do let them use those pricey consoles, but if you have teenagers or fancy it for yourself then you had better hurry as this is likely to sell out fast.
Apparently Amazon have price matched but are out of stock of the XboxOne version at the moment, but if you want the PS4 version then that is another option for you.
Both retailers offer free delivery for this game. Reviews are mixed, but if you are a Spiderman fan then there will probably be plenty to keep you happy.
Thanks to hanzoadam @ HUKD