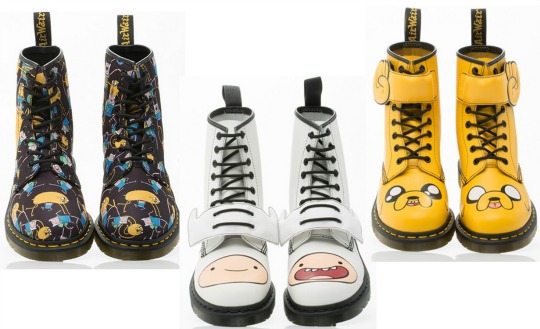 Wow, wow and more flaming wow! You get the Adventure Time Doc Martens in adults sizes! Woah, these will sell like hot cakes. Like I said on my blog last night about the kids' ones, they are HIGHLY collectable. As far as I know, you can only get these in big sizes straight from Doc Martens themselves.
So what's the damage? We know that Adventure Time children's boots are £65 for the patterned ones and £80 for the Limited Edition Finn and Jake ones. The adult sizes cost £110 for the patterned and a whopping £130 for the Limited Edition Finn and Jakes.
There are not cheap but they are still proving popular as there are certain sizes sold out already. Buy these and all of the kids in the playground will brand you the coolest mum in the playground.  These will take guts to wear as they are very much statement footwear.
Delivery is completely FREE and so it should be at that price! You can find the children's one in yesterday's blog, here.