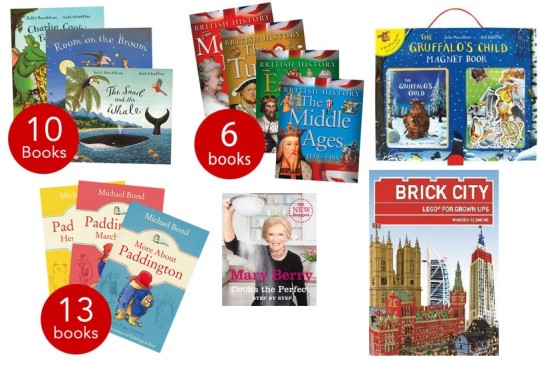 The Book People have a fabulous flash sale on that ends at midnight tonight with up to 90% off a range of 182 books. Delivery is free on orders over £25, otherwise the standard fee of £2.95 applies.
The Book People has some amazing book sets and some of those at fantastic prices. There are regulars like Julia Donaldson's Story Collection* of 10 books at the rather regular price of £10, which is still a great price but not unusually so.
Then there are other sets that are a really good price, like the 13 book Paddington Fiction Collection* for £13, or the British History Collection* for £5 for the six books.
There are also individual books The Gruffalo's Child Magnet Book* which is £3, and the Brick City* Lego book is also £3.
There are loads of other books to choose from, for kids, grandmothers and other adults. Remember though, it's just till midnight.