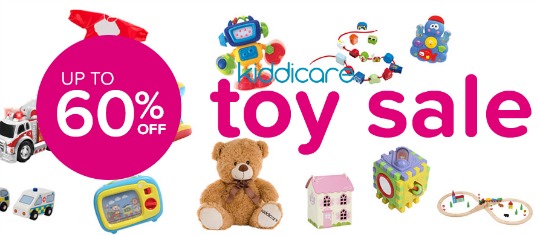 Kiddicare have just launched their Spring Savings event, and as part of this they have up to 60% off hundreds of toys for babies and children. Prices start from as little as 50p, and there are some really great toys.
You can get a pack of 5 cars* for £1.50, which works out at just 30p each, when I thought getting one in the poundshop was a bargain! There's a dolls pushchair for £3, a Learn To Dress rag doll*for £3.50, and there are two Mega Bloks sets for £4.99 each.
Not all of the items included are good value, for example the Orchard games can be bought cheaper,so make sure you price check before you buy. But there are enough toys at great prices to give a great choice, especially in the Buzzing Brains range.
When Kiddicare had a big toy sale before Christmas I managed to get so many stocking fillers and presents for my toddler at really low prices, and I have been impressed with the quality of their own brand Buzzing Brains toys.
Delivery is free when you spend over £29.99, or £2.99 if you are spending less.