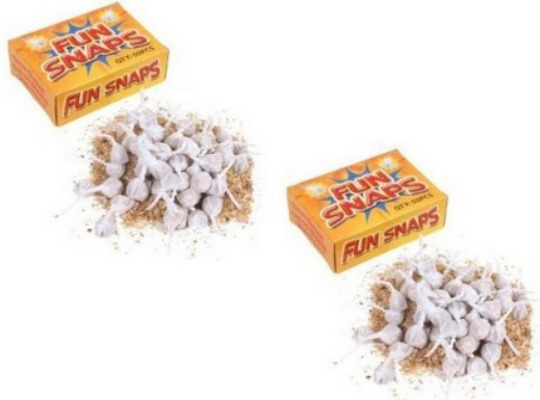 These will take you right back to your childhood. You either loved them or loathed them.... Fun Snaps Throw Bangers. I loved them and although there's not much to them they are good fun. I will say don't let the kids use them near cats and dogs as the noise of them is frightening. Amazon Seller Martins Deals is selling them for so much less than any shop I have seen them in. You get 500 Fun Snap Throw Bangers, that's a total of ten boxes for just £1.88 plus you get FREE delivery.
These are really simple to use, just throw them at the ground and they make a banging noise. It's something like the sound that a Christmas cracker makes, and they produce the same smell when used.
I used to spend my pocket money on these when I was little and my mum used to hate them, which made me love them even more. They come in a little box slightly bigger than a matchbox and they are kept safe by some kind of sawdust.
I must admit I am slightly surprised that these are still on the go especially since most other fun novelties from my youth have disappeared due to health and safety madness.
Thanks to ssc1 @ HUKD