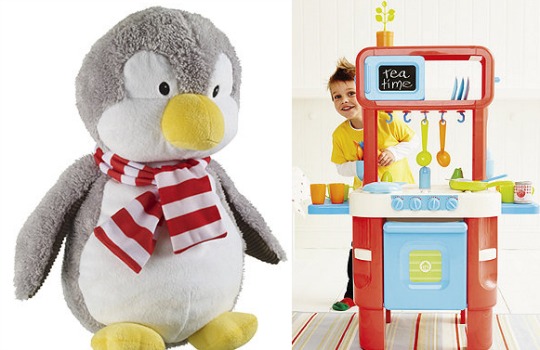 This year Early Learning Centre and Mothercare have been really great at giving us customers super deals on toys. Let's face it if ever there was a time we needed money off toys it's now! They have up to 50% off toys, plus they have just added a new offer, spend £50 and get £10 off. This £10 discount will be deducted automatically from your order total at the checkout, providing your order hits that £50 threshold.
The toys sold by both Mothercare and the ELC are mainly their own brand toys, but don't let this put you off, they are known for their quality and educational value. You can find the likes of Fisher Price, Crayola and VTech too.
Still looking for that play kitchen? Both retailers are selling this Little Cook Play Kitchen*, for £56, reduced from £70. You will, of course get your extra £10 off at the checkout, meaning that it'll cost you just £46 instead.
They sell Trainer Bikes that were £65, now reduced to £50, with extra discount only £40. Let me tell you they are worth it, and are a fantastic way of teaching your child how to ride a bike. They come in red* or pink*.
Save on any postage charges by collecting from your local ELC or Mothercare store, however delivery is free when you spend OVER £50, after the discount has been applied.