50% Off Leapfrog Tag Games @ Toys R Us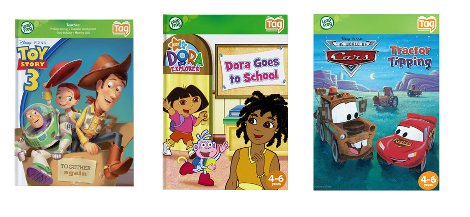 Toys R Us have a BOGOF offer on Leapster Tag software, essentially making them half price.
We reviewed the fabby interactive Leapfrog Tag reading system here at PlayPennies HQ last month and pretty much loved it.
Toys R Us have a great range of 'books' for the Tag system, including: Disney Princesses, Dora the Explorer, Scooby Doo, Ben 10, Disney Cars, Disney Fairies, Toy Story 3, Spongebob Squarepants and the Disney Pixar Book.
If you buy any two of the books for £12.97, which is a great price for hours upon hours of entertainment.
Quoting from our review, "It's a great use of technology, educational to the nth degree, and well worth every penny spent in entertaining the kids at home on cold afternoons, or long trips away over Christmas. As a Christmas present it really does sit at the top of the pile for genius. "
Toys R Us offers delivery for £4.95, but orders over £50.00 are delivered free of charge, so it may be worth checking the offers section too.
*Remember you'll need the Leapfrog Tag System to operate these!