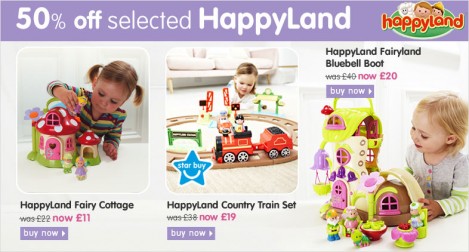 The folks over at the Early Learning Centre are offering you the chance to pick up Happyland toys for up to half price (most of them have 20% off).
Christmas day is a mere 13 weeks and 2 days away - this is either bad news for you, or good.  It's good for me as I have family coming over from overseas; I'm very excited and, as a result, am already in FULL Christmas mood.
I've  never understood people who say, "It's too early to start thinking about Christmas!" WHY?!
It makes perfect sense to spread the buying of pressies, and other Christmas things, out over the next 13 weeks - you'll save yourself money by taking advantage of deals like this up to 50% off Happyland toys, and save yourself the stress of having to cram everything into the dying weeks before the big day.
There are 51 Happyland items for you to choose from, from the big sets to the little ones and something to keep all little ones happy, whether it's for Christmas, birthdays or 'just because'.
Thanks to brumblesmum at HUKD