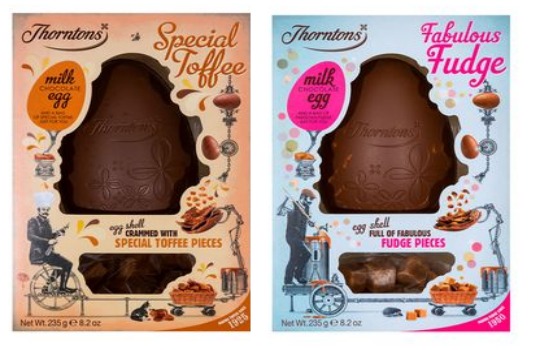 This looks like a delicious offer on Easter Eggs from Thorntons. There is a selection of Easter Eggs at Thorntons that are £7 each, but are also on a Mix & Match 5 For £20 offer. Remember that 20% discount code MDAY20 I told you about? Well it works on top of their offer too. That means that each of the eggs will cost £3.20 each, and you can also get a personalised message iced onto the egg as well for free! 
The fudge and toffee Easter Eggs are that little bit different, as there are pieces of fudge and toffee mixed into the shell of the milk chocolate eggs, making a tasty change from your usual eggs. They also come with a bag of fudge or toffee as well. It's just getting better!
You could really have fun with the icing messages, as you can put a different one on each egg if you want. How about using them in an Easter Egg hunt? That would be great fun for the little ones.
The other eggs available in the 5 for £20 (or £16 with the code MDAY20) are Chunky Milk, Dark or White Easter Eggs, or a Milk Chocolate and Classic Chocolate Selection Egg. There is also a No Added Sugar Easter Egg included in the offer, which is great news, although that one cannot be personalised due to the sugar in the icing.
Delivery will add on another £3.95 if you are spending under £30, or costs just £1 when you spend more. You could always check out our Mother's Day choices from Thorntons and put them all on the same order to save on postage!
The MDAY20 code expires on Sunday 8th March, and you can find that along with other Thorntons Voucher Codes over in our voucher section.