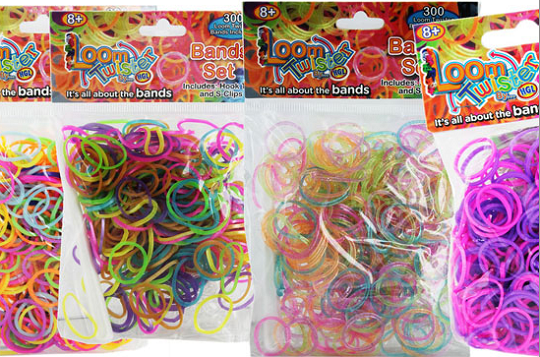 Loom Bands are all the rage right now and my kids can't get enough of them. This is an ace deal from The Works where you can get 3600 of these sparkly dudes delivered for only £9.99. Get them in bulk, save them for parties and be the talk of the kiddie town!
You can also get packs of 300 Loom Bands in Multi-Coloured, Twister and Colourful for only 99p delivered.
You will need to use the Works voucher code for free delivery on these, which is A6GHTY . You can find that and an additional 30% discount for The Works in our vouchers section (one code per order sadly.)
While not as epic a deal as their 99p Loom Bands, this is pretty good as you're saving £2 off the RRP and getting free delivery.
This set comes with 2x bags of 300 Loom Twister Bands, 3x300 Glitter Loom Bands, 2x 300 Multi-Coloured Loom Bands, 3 x 300 Neon Loom Bands, 2x 300 Colourful Loom Bands. And If I were you I'd check to see if the 300 Loom Neon Band set is available at 99p before you checkout, they may have stock!