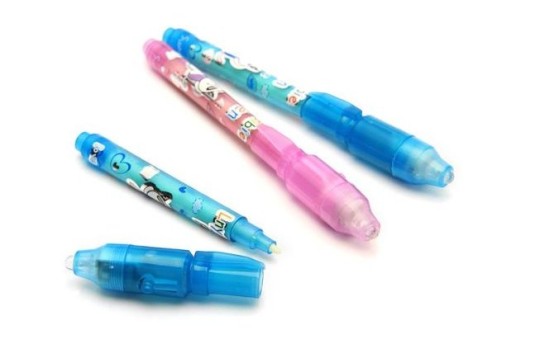 If you have a child that likes magic, these spy pens are bound to go down a treat. I've just bought for sets for 12 goodie bag fillers for my daughter's birthday party - spy pens? secret fairy business? treasure maps? The tie-ins are endless and at less than 60p a pen, delivered, they sound like a great plan to me. That's £1.88 delivered, for three. Not too bad in my estimation.
There are mixed reviews on these pens, with some saying they arrive as individual pens with lids off and dried ink and other reviews saying they arrive in packaging and are amazing and the kids love them. The good reviews far outweigh the bad and at £1.88 delivered you can't really complain.
The way they work, is that your little one writes their secret message, after which you use the LED light on the cap to show up the invisible in.  The pens require AGG button batteries, which come included.
I'm sure there will be many happy little people encouraged to write with this set!