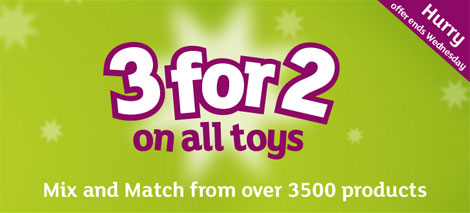 Now you may have seen the adverts for Argos' 'BIG WAHOO' on TV, or then again you may not.
If not, here's the deal: until tomorrow (Wednesday 21 September), Argos are running a 3 for 2 on all toys promotion; an ideal opportunity, methinks, to save some money and cross a fair few things off the Christmas present toy list!
There are over 3,500 toys to choose from and you can mix and match across the various ranges, so if you wanted two Transformers and something Peppa Pig then you can; hurrah!
Now, you need to know a couple of things before you get all excited and dash off over to Argos...
1) You can RESERVE your chosen items online BUT you need to pay for them in-store, AND the 3 for 2 saving won't show up in your online basket - it will only show up at the till, or paypoint, when you pay for everything.
2) If, for some reason, you want to have your items delivered then you need to order them in-store for the 3 for 2 discount to apply.  I have to say, this doesn't make sense to me!  If you are already IN an Argos shop then why wouldn't you take your purchased toys home with you there and then?!  I'm just informing you of the small print, I don't need to understand it.
So there you go, there are two days left of the BIG WAHOO - you'd better get over to Argos pronto whilst you still have time.
Oh, by the way, if you want to check stock levels in the Argos stores nearest you, www.icheckstock.com is a handy little website you might like to use.
WAHOO!