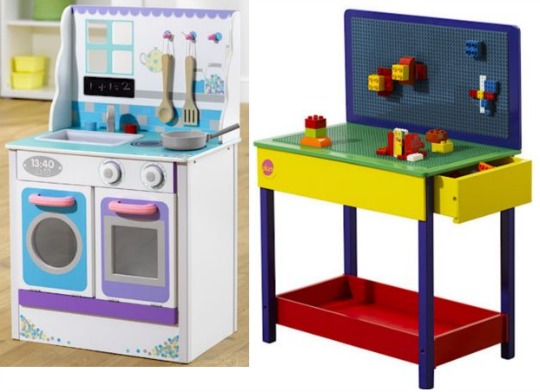 We are a big fan of Plum Wooden Toys, why? They are generally good quality and are normally great value. Who doesn't love wooden toys? Tesco Direct have 25% off Plum Wooden Toys just now, meaning that there are items from just £29.99.
Wooden toys have never been so popular as they are today. I have a friend that only buys wooden toys for her children. She thinks they are more traditional and encourage imagination and learning too without the aid of lights and sounds.
Plum are known for making pretty impressive wooden kitchens, check out these ones: Plum Cook-a-lot Trolley Wooden Kitchen* was £89.99 now £67.48, Plum Snowdrop Interactive Wooden Kitchen*was £99.99 now £74.98 and Plum Cabin Wooden Role Play Kitchen* was £49.99 now £37.49.
I think this Plum Wooden Build-It Construction Table* is pretty cool. It was £69.99 and is now £52.49. There's lots of other nice wooden toys included in this offer.
This offer is ideal if you are on the lookout for a big toy for that special birthday.
You can Click and Collect your Plum Wooden Toys from your local Tesco for FREE or pay £7.95 to have it delivered to your front door.