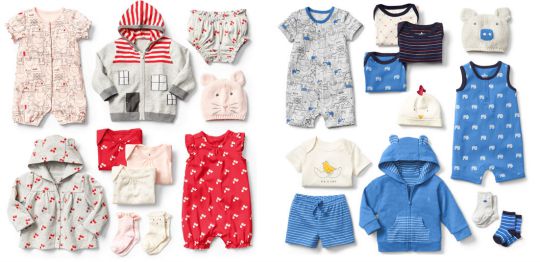 Gap often have great promotions on, and this one will give you up to 25% off - including sale items! You could make some massive savings with this so it's worth another look at the sale, or grabbing some new season items with this voucher.
It's a type of spend and save voucher where you get a bigger discount the more items you buy. Buy 1 item and the code will give you 15% off, but 3 and the discount goes up to 20% off, and if you buy 5 or more items then you get the full 25% off your order! 
Discount: Up to 25% off everything including sale.
Expires: Midnight 16th July 2015
Code: YAYGAP
You'll get the best value by checking out the sale first, but it's been on a while so it's a bit hit and miss on sizes. The new baby collections* are out now and they are really quite lovely. You could get 5 baby items from the brand new autumn collections that just came online and get 25% off the lot, which is a great deal.
This Gap Voucher Code can be found here in our voucher section along with loads of other money saving codes. Make sure you check there before you buy anything online and we could save you more money!