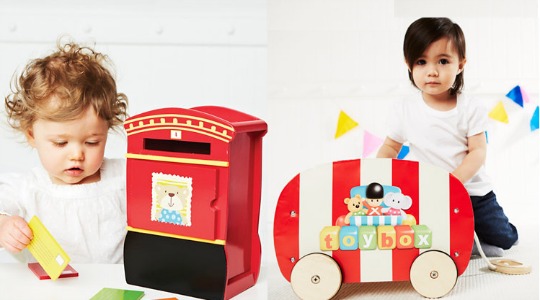 Looking for some cute baby and toddler toys? The Early Learning Centre have 20% off selected Baby and Toddler Toys. There's some cracking deals on wooden items too.
The Wooden Post Box* is now only £12 reduced from £15. Don't underestimate the fun that a little one would have with this. They will adore the repetitive nature of posting the letters and fetching them out, over and over.
This ELC Toybox Pull Along Wagon* is now only £12.80 reduced from £16. It is rated highly and I must admit I think it's smashing and much different than those plastic ones you get.
If you are looking for a new baby gift, then you need to have a look at these: Mothercare Stripy Giraffe* was £7.99 now £6.39 and Mothercare Floral Bunny* was £7.99 now £6.39.
The ELC Wooden Rocking Horse* has a whopping £20 off. It was £40 and is now only £20. This would make a stunning first birthday gift.
You can Click and Collect your Baby and Toddler Toy order for FREE or pay £3.95 to have it delivered to your front door.