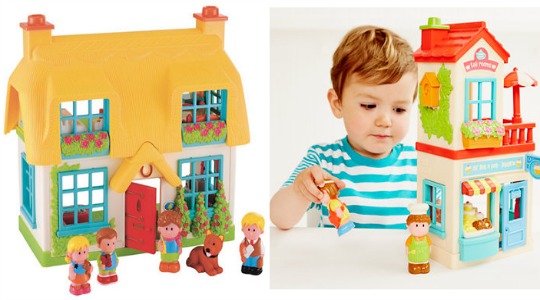 I was in my local Early Learning Centre the other day and was so sad when I was told it was closing down.  I loved that place as a child and my children love it now but it's a sign of the times, I guess. That's what Early Learning Centre is about, your parents shopped there and so do you for your kids. Why? Offers like this one... Up to 20% Off Happyland Toys. Starting from just £4, these are great birthday presents for little people.
Happyland by the Early Learning Centre has always reminded me of Fisher Price's Little People range. I just adore all the different themed sets you get, and you can just expand as much as you like by adding on sets.
Here's my top picks of the Happyland deals: The Happyland Enchanted Carriage* was £10 now £5.60. That's even more than 20% off so that's a bonus. The Happyland Rose Cottage*only has 10% off but is still a good buy at £36. I love the idea of the Happyland Store and Play* as it's a storage box but unzips to a play mat. it's reduced from £22 to £17.60.
You can collect in store for FREE or pay £3.95 for home delivery.