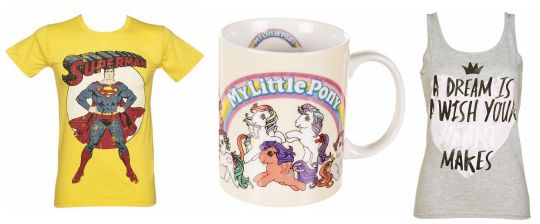 If you have never heard of Truffle Shuffle before then you're in for a treat. It's like taking a trip down memory lane, very retro, all the fab things from the 80's are here but made into clothing and accessories, TV programmes you thought you had forgotten about, movies memorabilia, it'll all come flooding back to you! And right now they are offering 20% off everything on the site until Monday, including sale items, using code SUMMERSAVE20.
Truffle Shuffle also have a brilliant kid's section including Superman, Minions, Disney and Batman to name but a few. The sale items are limited in sizes so you will need to be quick. I love this My Little Pony Lunch Tin* it is now just £6.39 using the code. These Peter Rabbit Stacking Blocks* are so different, they would make such a lovely gift and using the code they are just £12.79.
There are plenty of items you could use as stocking fillers such as this Frozen Lip Smacker* just £2.39 using the code. Speaking of Christmas I really want this Merry Christmas Ya Filthy Animal T-Shirt* now just £10.39 (using code) instead of £16.99. This is a great buy too Men's Distressed Batman T-Shirt* now just £5.59 (using code) instead of £9.99.
Home delivery starts at £2.95 or if you spend over £40 it becomes FREE.