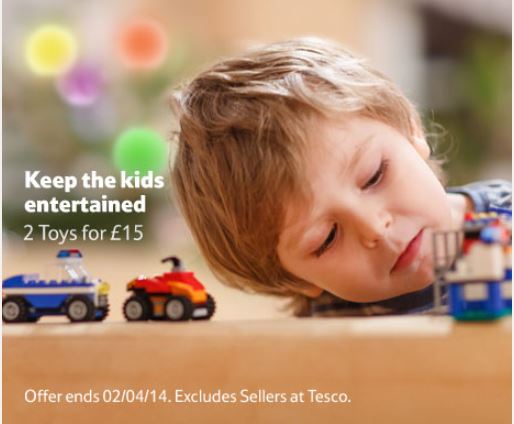 Until April 2nd, Tesco has a two-toys for £15 offer going, and it's worth looking at for stocking up on birthday gifts and other odds and ends.  You can buy online, and there's free next day click and collect.
We're about to head into the next big birthday period in our social calendar, with parties every other weekend, and a need for gifts at least once, if not two or three times a week. If a 'decent' gift is £10 -£15, it can quickly add up to way more money than I have to spend on other people's children, which is why I love sales like this where you can still buy 'nice' gifts but for less than you'd expect to pay for them.
Starting at £3 for Bin Weevils Character Pack, or £6 for the Moshi Monsters "Where's Moshi?" Game and up to £9.98 for the WOW Toys Johnny Jungle Plane Toy Vehicle. Obviously you need to shop smart - no point getting two £3 gifts, but you can save yourself an easy £5 on this offer.