2 For 1 on Tickets to Mister Maker Live at New Alexandra Theatre Birmingham £23.30 For 2 @ ATG Tickets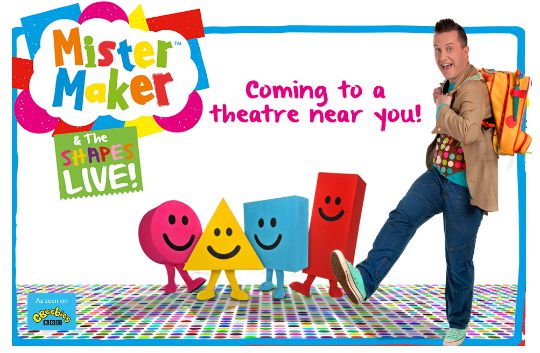 If your little ones are big fans of Mister Maker then you will be pleased to know he is doing his very first theatre tour.  ATG Tickets are currently running a 2 for 1 sale on tickets to various shows including the Mister Maker Live show at the New Alexandra Theatre in Birmingham.
The dates for the Mister Maker show are on the Friday 9th October 2015 at 4pm and Saturday 10th October 2015 at 10am,/1pm and 4pm. The price for 2 tickets is £23.30 including a £4 booking fee. Tickets can be delivered or collected for free. When booking you need to select from the drop down box, the ATG promotion.
Packed full of arty adventures, songs, supporting guests and of course The Shapes, it is bound to be a great show for all your little Mini Makers! However if you are looking for other shows there are plenty more available and at different venues. Here are the ones that have been found: 
*New Alexandra Theatre, Birmingham*
Show: Shawshank Redemption
Dates : 28 August – 1 September
Days: Mon – Thu performances
Pricing: Band A £15.24 / Band B £13.00 (+£4 booking fee)
*Liverpool Empire, Liverpool*
Show: Love Me Tender
Dates: 10 – 13 August 2015
Days: Mon – Thu evenings
Pricing: Band A £16 / Band B £12 (+£4 booking fee)
Show: Sound of Music
Dates: 14-18 September 2015
Days: Tue – Thu performances
Pricing Band A £18.86 / Band B £16.62 (+£4 booking fee)
Show: Putting on the Ritz
Dates: 6 – 10 October 2015
Days: Tue – Thu performances
Pricing: Band A £15 (+£4 booking fee)
*New Wimbledon Theatre, Wimbledon*
Show: Blood Brothers
Dates: 8 – 12 September 2015
Days: Wed – Sat
Pricing : Band A £16.75 / Band B £14.50 / Band C £11.75 /Band D £8.25 (+£4 booking fee)
Show: Dirty Rotten Scoundrels
Dates: 20 – 24 October 2015
Days: Wed – Sat
Pricing: Band A £20.50 / Band B £18 / Band C £14.50 /Band D £9.50 (+£4 booking fee)
Show: Jesus Christ Superstar
Dates: 22 – 26 September 2015
Days: Mon – Sat
Pricing: Band A £20.50 / Band B £17.50 / Band C £14.50 / Band D £10.50 (+£4 booking fee)