I'm not big on crowds, so internet shopping is one of the best things about living in this century, in my view anyway.  But internet shopping can be really hit and miss too – some sites just don't offer what they promise, and sometimes you have to think twice before submitting your bank details!
However, My 1st Years is a lovely site, with beautiful and quality products, an easy to navigate layout and great service.
We were offered the opportunity to order and review some of the items on My 1st Years, so we asked new mum Denise Bell to give it a go and tell us what she thought.
"Everything about My 1st Years is simply beautiful," Denise gushed. "The website, packaging and items themselves all look like they are labours of love."
Denise agrees with my findings of online shopping too. "So often I shop online and get my items through the post in cheap plastic wrapping. As a mum with a new born baby shopping is a rarity" she told us. And to Denise, having a quality shopping experience online is really important. "Being able to shop from home and still be able to take delight in the overall shopping process keeps me feeling a little less mum like and a lot more like the old me."

Of the overall appearance, Denise has only good things to say – "Orders are wrapped in delicate tissue paper, adding their renowned white ribbon for an extra treat. Orders are then placed inside the My 1st Years gift box. The free gift box is placed inside a plain cardboard box with no My 1st Years branding before dispatch to ensure the surprise!"
One of Denise's favourite things about My 1st Years is that the gift box and wrapping is free and we love that too – it seems a really nice little bonus.
My 1st Years specialises in personalised baby gifts and Denise found the website very easy to use and adding the personalisation details very simple. She also liked that you're able to choose colours and text styles.
Denise ordered three things from the website to review.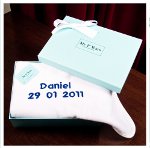 The Boys White Fleece Blanket (£20.00) is a soft fleecy blanket with nylon trim detail, made from environmentally friendly material and is machine washable. The only reason it's a boys blanket is because of the blue details, but if you're non-colour specific, it would be lovely for a girl too (my daughter's room is shades of blue and lilac!)
This blanket is 70x120cm in size.  Denise agreed with the blurb that the blanket itself is "beautifully soft, it has a lovely edging and the writing is well stitched, of a nice size and easy to read."
"I have bought similar blankets without the personalised element for a similar price", says Denise.  She also endorses the product in the best way possible. She'd buy one for a friend: "Given the quality of the blanket, the personalisation and the presentation I would happily buy this for an expectant friend. "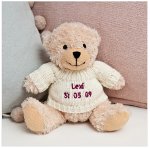 The Ashley 6'' Bear with a Cream Jumper (£17.00) Denise ordered is produced with babies in mind. It has soft stitched eyes and delicate fur to ensure it meets safety regulations and standards.
"The Ashley Bear is one of the softest bears I have cuddled," says Denise. "It has stitched as opposed to glass eyes which makes it suitable for babies of all ages. Again the stitching is very clear and easy to read."
"It is a very beautiful bear and will make a great keepsake. However, I do think it is a little expensive and for similar money I would prefer to buy something like the blanket which is both practical and also a keepsake."
Finally, Denise ordered one of those baby items that makes everyone swoon just a little – baby shoes! She ordered the white High Top Trainers (£20.00), which are made from quality canvas and have a soft nylex lining for your baby's comfort.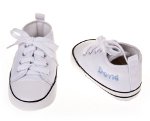 "These are very well made with great attention to detail" Denise tells us. She adds, "The inside of the shoes are cushioned and the writing covered to prevent irritation."
I had a pair of baby trainers for my daughter when she was small, and I must say that it was really difficult to get them on and off, and really, baby feet don't need shoes. Denise seems to agree. "I do not like to see little babies with shoes on so I have strung these up on ribbon and they are hanging up in the nursery. A very simply yet different keepsake."
Now, with that, I have to agree – they certainly have the aaaaaaah factor, don't they?
So, overall, Denise seems to love what's on offer at My 1st Years, and is very satisfied with them. Which is great news for web shoppers like me!