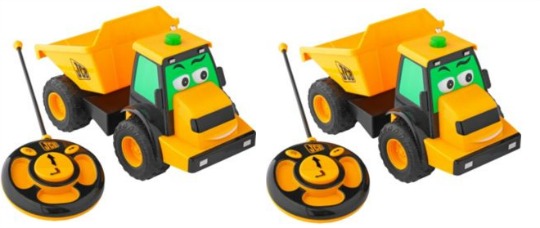 My house is full of Tonka trucks, JCBs and the likes. Boys seem to go daft for these kind of toys. I am sure lots of girls do too. They start from a young age with their fascination with trucks, lorries and tractors.
At Argos you can feed your little one's truck addiction with this my 1st JCB talking remote control Doug dumptruck. It's only £7.99 as well. This is by far the best price I have found online. Argos suggest it's worth £19.99.
The control is in the shape of a steering wheel, and moves the dumptruck forward and back. There's buttons to make lights flash and sound 5 different phrases too. At least you will be able to hear it before it comes crashing into your ankles.
The bit on the back does tip but it only does it by hand and not by remote. I think it would be much more impressive if you could do this by remote control.
It requires batteries, a mixture of AAA and AA, so make sure you have some in the house. Aimed at 2 years and older, dare I say it would make a nice put away for Christmas?
Reserve and collect only from your local Argos store. When I checked the availability on these, they were in stock in most of the Scottish stores and in around 50% of stores south of the border.