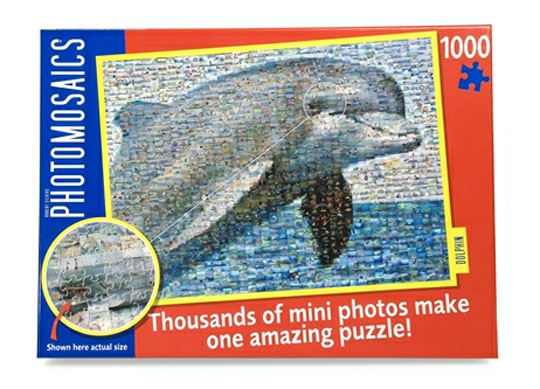 If you pop over to Play then you'll be able to pick up this Photomosaic Dolphin puzzle for £6.99; its full recommended retail price is £12.99.
If you've been 'with' us here at PlayPennies for a while, you might have picked up on the fact that I love jigsaw puzzles; it doesn't matter whether they're 12, 16 and 24-piece Peppa Pig puzzles or 1000-piece behemoths for grown-ups, I just love them.
If you do too and are looking to up the puzzle ante then you should take a look at this 1000-piece Photomosaic Dolphin puzzle - it looks like it could really challenge you, and probably your patience on occasion too!
Instead of each piece only being part of the bigger picture, each piece is a tiny picture in its own right and when put in the right place, and viewed from a distance, creates the overall image of the dolphin.
Due to the small nature of the puzzle pieces, the official blurb states the 1000-piece Photomosaic Dolphin puzzle isn't suitable for puzzlers under three years old - I can't imagine anyone much younger than 10 going anywhere near it either!
Thanks to wishihadadonkey at HUKD