1000-Piece Mega Bloks Micro Tub £8.99 @ Argos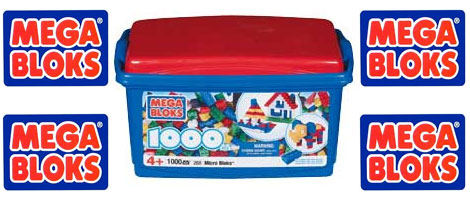 Argos are selling this 1000-piece Mega Bloks Micro Tub for less than half-price - £8.99 instead of £29.99 and according the small print on the bottom of the item description, this selling price is only going to be valid for the rest of the day (we'll have to see whether it does actually change tomorrow...)
I'm not sure I'd pay £29.99 for this 1000-piece Mega Bloks Micro Tub - perhaps I've got so used to looking at deal prices that any full retail price seems a bit steep.
Micro Mega Bloks pieces offer a bigger challenge than the big chunky mega bloks, so if your child has outgrown those and craves a bigger architecural Mega Bloks test then this tub of 1000 Mega Bloks Micro Bloks pieces will offer them just that.
The vast number of brightly coloured building blocks can be turned into just about anything and everything their imagination sets its heart on.
The one thing I never liked about playing with Mega Bloks with someone else was running out of pieces; with 1000 pieces there's enough here for everyone to build at the same time without scrabbling around for the right sized block you need to finish off your Mega Bloks Micro Blocks creation.
I'm trying my best not to imagine the horror of 1000 pieces of Mega Bloks Micro Blocks strewn all over the floor, but at least the tub they come in is deep, strong and sturdy and has a secure snap-on lid.
You can have your 1000-piece Mega Bloks Micro Blocks tub delivered for £5.95 or collect for free if your local Argos has it in stock - use www.icheckstock.co.uk to search all 700 Argos stores at once.
Thanks to Hunter82 at HUKD