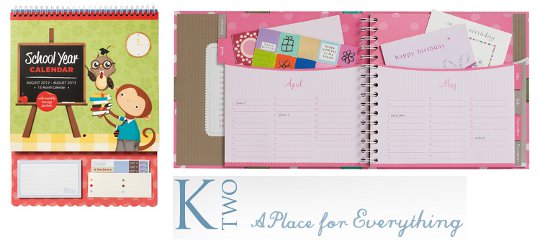 Is there a better time of year to get organised than January? The nights are long, it's cold and sitting on the sofa sorting through paper work is almost appealing. KTwo Products can help you with their solutions for getting organised.
See where you can set your records straight
Discount: 10% and FREE POSTAGE (UK Mainland)
Valid on: Everything
Expires: 31 January 2012
Discount code: PLAY1
I really love the stuff at KTwo Products. I think they just have brilliant ideas and even a disorganised person like me can find some order in the chaos.
KTwo bestsellers include the Birthday Card Book, which is great if you want to return to the art of sending cards rather than relying on Facebook or text. This is £9.99 normally, but £8.99 for you – and where you're really saving is the postage of £5.95.
There's also a very useful School Year Calendarwith which you can keep track of what the whole family are up to, with deep pockets in each month's slot for keeping extra information, flyers and so on. It also comes with a tear off note pad and stickers to help you plan. The calendar has a column for birthday reminders and runs from August to August to keep in line with the academic year.
There are plenty options to suit your and your family's needs at KTwo Products.