Dickie Tower Crane Set £7.50 @ Debenhams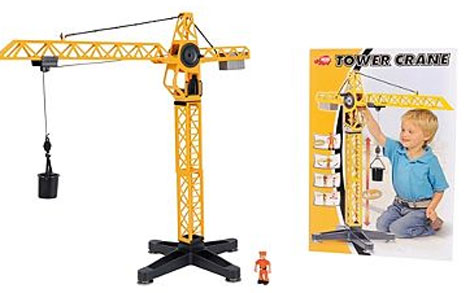 Debenhams are selling this Dickie Tower Crane set for half price; £7.50 instead of £15.00.
Click HERE to go over to Debenhams
If you have a little boy, he's going to love this Dickie Tower Crane Set (let's not leave the girls out, your daughter might love playing construction sites with it too).
Boys tend to have a big fascination with HUGE tower cranes and all the general digging and consruction that usually goes along with them.
Perhaps it's the fact that they're so big and look like they could just pick you up at any moment and move you w a y over somewhere else?  Or maybe it's just because if you're the tower crane driver, YOU get to be in control of such a mechanical monster.
Whatever it is, boys dig them.
My youngest has something very similar to this Dickie Tower Crane set and he's spent many a happy hour winching things up in the bucket, swinging the crane arm round and lowering whatever was in said bucket somewhere else.
This Dickie Tower Crane Set is nice and simple; no batteries required, no bells, no whistles just the crane and a crane driver figure.
Happy lifting (or whatever the technical term is for picking something up with a crane)!