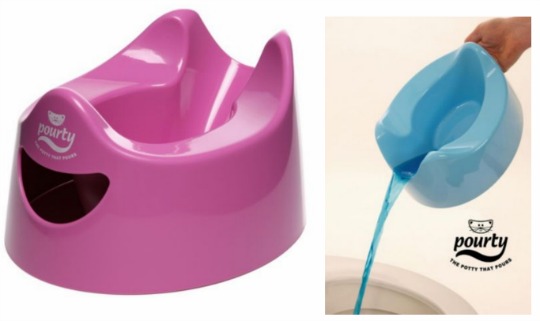 Emptying a potty full of poop or pee pee is never a fun task. It's even worse when it spill down your hand or over the toilet. The Pourty Easy-to-Pour Potty solves that problem. Tesco Direct have reduced the price of them from £10.20 to just £5.10 and Amazon have price matched. At the price, they are selling fast so I would grab one sooner rather than later if you want one.
The Pourty Easy-to-Pour Potty comes in two colours at Tesco Direct: Blue and Pink. Over on Amazon you have the choice of Blue*, Pink*, Purple* and White*.
It is designed so that you can pour the contents out the back without any nasty dribbles over the sides where your little one might place their hands. There's a handle at the front to make it easy to tip and pour the contents into the toilet then rinse.
You can Click and Collect the Pourty Potty for FREE from a Tesco store near you or pay £3 for home delivery. If you have Amazon Prime then you can have this delivered to your home for FREE, or if you are spending £20 or more.
Thanks to mobjw @ HUKD